Best Digital Marketing Book in Pakistan
Digital Marketing Book in Pakistan
UNBOXING
THE PHENOMENAL WORLD OF
DIGITAL MARKETING
This book is an in-depth illustration of the phenomenal world of Digital Marketing where Mr. Sarmad Ali Abbasi (Certified Digital Marketer) has elaborated each & every aspect of Web advertising in a very simplistic way to make sure new and growing businesses specifically are benefited the most.
It is a complete guideline for anyone willing to invest his future in learning Online Marketing, SEO, Content Marketing, Google Analytics, & other strategies to grow your business much more. This book is a power pack tool to help your business grow and stay ahead in the league always.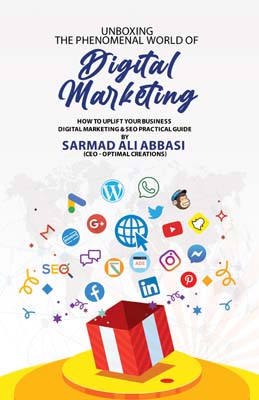 For Order
Please Contact: +92 334 3470263
Free Delivery All Over Pakistan
PKR: 799/=
For International Users:
Video About  Digital Marketing Book in Pakistan
In this video Mr. Sarmad Ali Abbasi(CEO Optimal Creations) explains why his company is the best bet for every business to invest into. Optimal Creations has transformed the face of several small and large scale businesses and have made them a top notch competitor and seller in the market. Furthermore he introduces his newly published book called 'Unboxing the Phenomenal World of Digital Marketing' which contains his vast professional experience, tips and much more, which is basically an in-depth guide to help emerging businesses grow effectively in the market.